4Wire Software Solutions
Integrated Software for Engineering, Manufacturing Execution and KSK Assembly and Logistics
With its integrated software solutions 4Wire, DiIT has managed to generate automatically, from 150% drawings and JIT-calls, the customer specific bills of materials and working plans for the entire production (4Wire PPG). Their transmission to subsidiary systems (4Wire CAO and 4Wire PLS) enable the efficient control of all production areas, from the cutting area to assembly and right up to shipment.
The modular design of 4Wire software solutions allows to introduce the systems in a flexible way, step by step, and geared to the needs of each company. 4Wire solutions are easy to integrate with SAP and other ERP-systems.
The great advantage is, that article data, needed by the ERP system, are supplied by 4Wire PPG and data, which are not available in the ERP system, such as crimp technology data, and the actual use of resources with position indication, are used within the 4Wire systems.
In the customer-specific production of wiring harnesses, characterized by its great variance, data exchange can be entirely handled within the DiIT systems, so that the feedback to the ERP is only on finished products level. This procedure highly reduces the data volume and the complexity in the ERP system.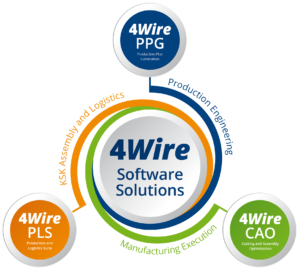 Extensive projects are easy to manage
4Wire software solutions enable customer specific production. The customer modules of each specific vehicle, which are received by JIT/JIS, are transferred in 4Wire PPG directly into production modules, and activities are automatically distributed to the production systems 4Wire CAO and 4Wire PLS. A high variety of versions and a high frequency of changes in the wiring harness drawings are hard to cope with when qualified staff is rare and the error rate is high. 4Wire solutions process and manage them automatically and in a reasonable way.
Costs, transparency and traceability
To avoid downtimes of assembly lines from OEM, often millions of Euros are being wasted for activities. 4Wire software solutions enable you to cover the processes before the production starts. With 4Wire software solutions you can manage complex processes of assembly, production and shipment. The integrated view generates synergy, transparency and traceability, that makes extensive cost savings possible.
Flexibility and Integration
4Wire PPG, 4Wire CAO and 4Wire PLS are flexible. Employed for a variety of models and model changes of various OEM, the systems have long shown how fast, cost effective and flexible they can be aligned to changing requirements. 4Wire software solutions are open for integration with SAP or other ERP systems and provides the transparency for well-founded management decisions. Well-known OEM suppliers use the systems today in a number of projects.