Successful WPE (Wiring Processing Technology Expo) in Milwaukee, USA
Krailling, May 12,  2017 – The industry met at the WPE (Wiring Processing Technology Expo) from 10 – 11 May 2017 in Milwaukee, USA for the 16th time. At the center of this year's event was the cable set production with more than 3000 visitors, including numerous decision-makers from leading OEMs and suppliers from the automotive, electrical and electronics industries.
DiIT AG presented the leading 4Wire software solutions for the PPG (Production Plan Generation), CAO (Cutting and Assembly Optimization), PLS (Production and Logistics Suite) together with the Schleuniger Group. On the second day of the event, the keynote by Bernd Jost, Managing Director, took place on the topic of "Manufacturing Execution Systems – Your Competitive Advantage".
"We had a very good response again," says Bernd Jost, Managing Director at DiIT AG. "Digital production to improve productivity and ensure quality is on the agenda of many companies. The increasing complexity and the continuing cost pressure demand a new approach. The production should re-organize itself with the help of digital information in real-time and cyberphysical systems. With the DiIT product portfolio, we enable our customers to meet these new requirements and take a decisive step forward. "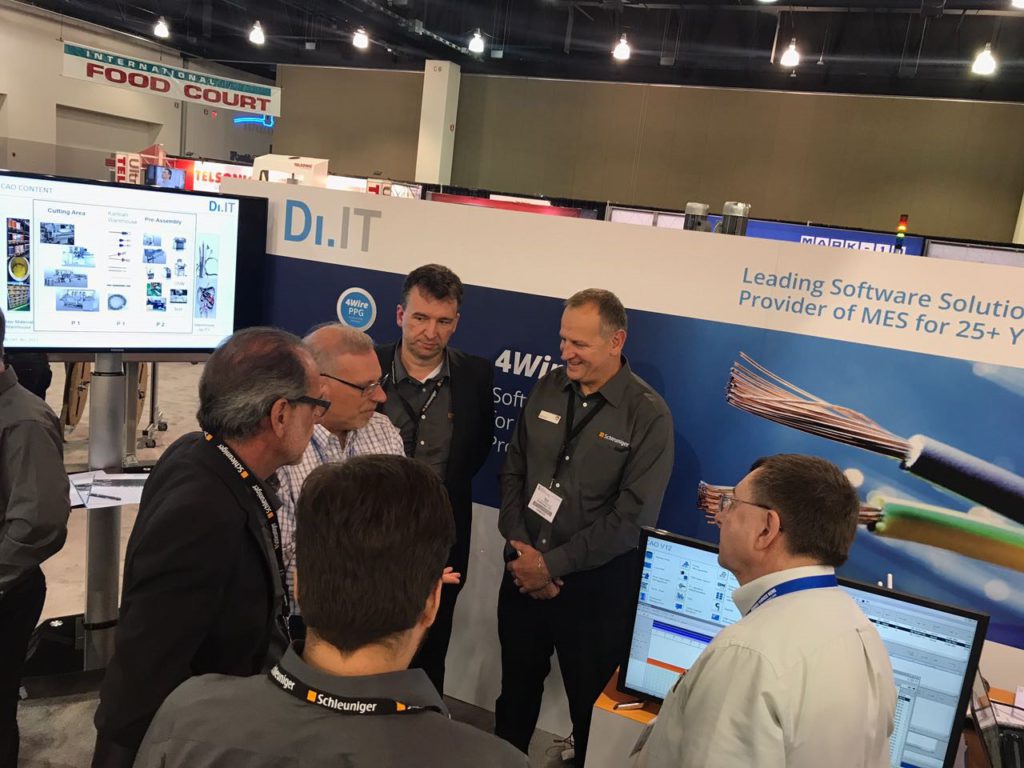 Bernd Jost and Olaf Hermann (DiIT) in conversation with Paul Allard and Mark Pendergast (Delphi)
About DiIT:
DiIT AG, based in Krailling near Munich, is the world's leading provider of integrated software solutions for engineering, manufacturing execution (MES), customized wire harness production and logistics. DiIT's competencies are bundled in the "4Wire Solutions" software suite, which is primarily used for the production of wire harnesses and wiring systems in the automotive industry and other industrial sectors. By digitalizing the value chains, the company's innovative software optimizes and controls complex development, manufacturing and logistics processes and supports quality assurance and traceability. DiIT was founded in 1990 and has subsidiaries in Berlin (Germany) and Arad (Romania). DiIT is also represented in the key markets Mexico and China. The company offers a comprehensive services package to both large and small customers which covers consulting, project management and customized implementation and training. The DiIT support line is available during 24 hours and 365 days. DiIT is a wholly-owned, independently managed company of the Schleuniger Group. Schleuniger is a globally active technology company and a leading solution supplier in the wire processing industry.
More information:
Bernd Jost
DiIT AG DiIT AG
Justus-von-Liebig-Ring 11a
D-82152 Krailling
Tel.: +49 89 8932500
bernd.jost@diit.de