4Wire PPG
Production Plan Generation made easy
4Wire PPG (Production Plan Generation) is a software solution for engineering and work preparation that enables the automated and rule-based generation of  production modules with work plans and production documents. 4Wire PPG supports all work processes of the cutting, pre-assembly and assembly area.
4Wire PPG´s special field of application is the customer-specific wire harness assembly (KSK) for cars and commercial vehicles. Taking account of all parameters, such as variants, variable lengths and production concepts, customer-specifically optimized production modules will be automatically generated along with their bills of materials and work plans.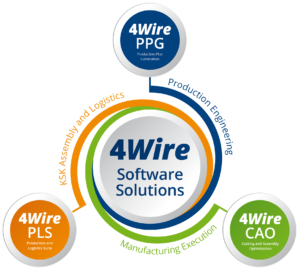 Improving security
4Wire PPG generates work documents based on explicit rules and runs extensive slump tests also in JIT/JIS processes.
Improving quality
4Wire PPG generates standardized production document. Typical errors caused by manual data collection, double registration and workflow descriptions are omitted.
Reduction of effort
4Wire PPG generates production documents completely automated. Manual and highly specialized post processing will dramatically be reduced.
Reduction of processing times
4Wire PPG generates consistent, integrated and automated processes and integrates the engineering in the JIT/JIS process. This allows significant reduction of the engineering cycle times.