4Wire PLS
Control customer specific wire harnesses with JIT/JIS.
In today's markets, companies are increasingly required to reduce cost and improve efficiency. In addition they have to cope with shorter time-to-market, product cycles and the high expectations of customers regarding service, and the consideration of their individual wishes in production.
With 4Wire PLS (Production and Logistics Suite) you will be able to meet these challenges. The 4Wire PLS solution covers all aspects of supply chain management and allows you to cooperate with your partners in the creation and implementation of a strategic supply chain.
4Wire PLS simplifies and synchronizes manufacturer
and supplier processes into an integrated system,
that enables customer-specific process control
and ensures smooth and efficient operations in
manufacturing, in the warehouse and along the
entire supply chain.
The saving of logistic costs, the reduction of stock
and the high responsiveness of the entire system
will bring about competitive advantages for all
partners involved.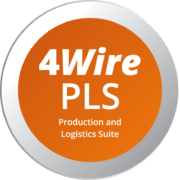 Customer focus
Based on the planning status of the OEM key processes are triggered and customer-specific. All processes can be completely controlled electronically. Changes to orders are possible at any time!
Cost effectiveness
4Wire PLS allows you to connect with your partner to a supply chain. With perfectly working and intelligent logistics concepts, we help your supply chain to success, just-in-time and just-in-sequence.
Flexibility
4Wire PLS is flexible. Used for a variety of models and model changes in various OEM system it can be aligned to changing requirements quickly, cheaply and flexibly.
Integration
4Wire PLS is open for integration with SAP or other ERP systems and adapts very well to different production conditions. This is ensured by a lean concept, good modularity and the various of available functions.
Process control
With 4Wire PLS you control the production, commissioning, final assembly and shipping. The 4Wire PLS has extensive JIT/JIS functionalities and is continuously synchronized with the OEM.
Transparency
4Wire PLS optimizes your processes and provides transparency and traceability. Paper can be eliminated entirely. Work assignments determined electronically with real-time data collection in place.